Swanage bouncy slide owner admits safety breach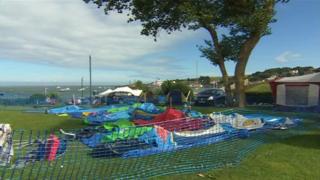 The operator of an inflatable slide that broke free from its tethers, injuring several children, has admitted health and safety breaches.
The slide, which was erected for the 2016 Swanage carnival, was lifted by the wind and toppled before travelling 10 metres, Poole magistrates heard.
At least nine children were on the slide at the time and were treated for minor injuries.
Ralph Guyan, 62, from Christchurch, will be sentenced at a later date.
Magistrates were told witnesses at Sandpit Field on 3 August heard screams as the slide lifted.
One child later asked if he was going to die, according to a witness impact statement read out in court.
'Visibly distraught'
Some parents rescued their own children and tried to stop the slide from blowing away, the court heard.
It would have travelled further had it not been stopped by a parked van, the prosecution said.
The court also heard the slide, which Guyan bought five years earlier from a company in China, did not conform to British standards for play equipment.
The Health and Safety Executive assessed the five-metre-high inflatable and found it had worn tethers and its anchor points were in "poor condition", the court was told.
Guyan, who had operated inflatable equipment for 15 years, including several times at Swanage Carnival Regatta, was "visibly distraught and highly emotional" at the time the slide blew away and did attempt to deflate it, the court heard.
Guyan, of Snowdrop Gardens, Highcliffe, pleaded guilty to counts contrary to the Health and Safety at Work Act 1974, including not making a suitable and sufficient assessment of the risks to health and safety of members of the public.
His sentencing date has not yet been set.
The case was brought by Purbeck District Council.