Augustus John painting found after house cleared out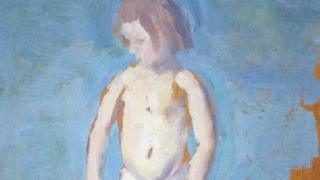 A previously unknown painting by Welsh artist Augustus John was snapped up by an expert following a house clearance.
"Edwin on the Beach" was bought by Poole Museum for £1,850 after manager Michael Spender saw the piece at an auction.
The artist's granddaughter Rebecca John who is a leading expert on his work, has confirmed the piece is genuine, meaning its value has soared.
It is on display as part of a three-month exhibition of Mr John's work.
Mr Spender, an expert in 19th and 20th Century art, had been searching for paintings by the artist, who moved to Poole in 1911 and spent much of his later life in the town.
Original piece
He found the piece in an auction catalogue after a house clearance in Moreton-in-Marsh, in the Cotswolds.
The painting of a young boy standing next to water was initially described as being "in the style of" Mr John, but Mr Spender believed it to be an original piece by the artist.
Following its authentication by Mr John's granddaughter, the museum said the painting is "now thought to be worth tens of thousands of pounds".
Mr John was born in Tenby, Pembrokeshire and was described as "the leading portraitist" of the 1920s by the National Portrait Gallery.
Poole Museum is displaying the work as part of an ongoing exhibition.
Curator David Boyd Haycock said: "It is very exciting that the museum has been able to acquire a previously unknown work by Augustus John."