New Bovington Tank Museum workshop officially opened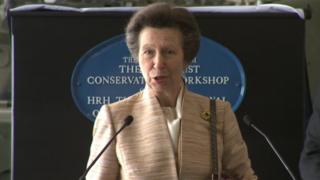 A new workshop to help restore vintage military vehicles and train new conservators has been officially opened.
The £2m facility at Bovington Tank Museum, near Wareham in Dorset, will allow work on its collection of more than 300 tanks and armoured vehicles.
It was opened by the Princess Royal, who then went on to tour the complex.
Museum director Richard Smith said the workshop would help "retain skills and develop new ones".
The project will also involve setting up an apprenticeship scheme to teach restoration skills.
It is the latest phase of the museum's redevelopment, which has received £14m in funding from the Heritage Lottery Fund over the last 12 years.
During her visit, Princess Anne viewed a newly-restored World War Two Matilda II tank which has been named Princess Royal.
Mr Smith said: "The workshops will greatly increase the amount of conservation work that can be done on our collection.
"Surprisingly little is known about the long-term storage and operation of historic vehicles, and this is critical to ensuring we still have a collection in a hundred years."
The project also includes setting up a research programme into the care of historical vehicles.
Princess Anne said the workshop would enable the museum to "maintain the collection".
The Bovington attraction is the museum of the Royal Tank Regiment and Royal Armoured Corps and holds 300 tanks from 26 nations.
A new 40,000 sq ft (3,700 sq m) conservation centre complex brought all of the museum's collection indoors for the first time when it opened in 2013.