Tribute to former Dorset police officer killed in plane crash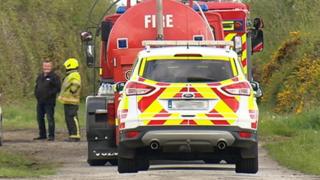 A former Dorset Police officer who died in a plane crash in Ireland has been described as a "gregarious character" by the force.
Pilot Neil Bowditch died in the crash in County Offaly on Sunday along with seven-year-old Kacper Kacprzak.
Mr Bowditch was the pilot of the Cessna which had 16 parachutists on board.
Dorset Police Chief Constable James Vaughan said: "We are saddened to hear of the tragic death of former PC Neil Bowditch, known as Billy."
Mr Vaughan added: "Billy was a gregarious character with a great many friends and former colleagues in Dorset Police. All our thoughts are with his friends and family at this very difficult time."
Dorset Police Federation has donated €500 (£437) to an online fundraising page started to support the families of the two crash victims.
The page has currently raised €32,800 (£28,700).
Mr Bowditch was dismissed from the force in 2015 after he became involved with a vulnerable woman he met during the course of his job.
All 16 parachutists onboard jumped from the plane a short time before it crashed in bogland.
The Air Accident Investigation Unit has confirmed it is investigating the circumstances of the crash.