Work delays keep Weymouth and Wareham rail line shut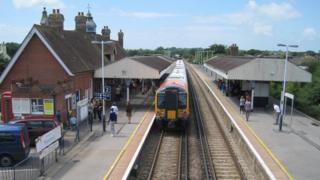 The rail line between Weymouth and Wareham remains closed because of overrunning engineering works.
Network Rail said engineering works had not been completed over the weekend due to the train being used to carry them out breaking down.
The track replacement works at Moreton may not be "fully completed" until Wednesday, it added.
Some passengers have taken to social media to complain about replacement buses being late.
Great Western Railway routes are affected between Weymouth and Bristol Parkway, Bristol Temple Meads, Filton Abbey Wood, Gloucester, Great Malvern, Westbury and Worcester Shurb Hill.
There are also no trains on South Western Railway services between Weymouth and Basingstoke, Bournemouth, Brockenhurst, Eastleigh, London Waterloo and Southampton Central.
The line closure does not affect trains between London Waterloo and Wareham.
Among the comments on Twitter, Rob Athersmith said: "And when the train gets to Wareham (late) there's no bus, when's the next one? Errr ummmm not sure! Shambles all day to sort buses and you can't! I'll be getting a taxi home from Weymouth station and you will be getting the bill."
Rosamund Moger commented: "@SW_Help @networkrail thoroughly unimpressed by the shambles that is the Waterloo to Weymouth route today. Over an hour added to my journey time! No replacement bus waiting for late train so extra twenty minutes added to that!"
Network Rail previously apologised to affected passengers and advised them to expect disruptions on Tuesday.
It said it was not responsible for replacement buses, which were organised by the rail operators.
A South Western Railway spokesman said there were no reports of late-running rail replacement buses at its control centre.
"However, the morning rush hour traffic may have caused delays this morning," he added.
Great Western Railway said its replacement buses were "linking in" with its train services.
A spokesman added: "Buses may get delayed due to road traffic delays."‏