Views sought on Weymouth seafront lighting plan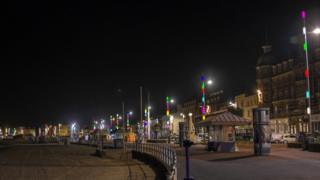 People are being asked for their views on a £200,000 seafront lighting plan in Weymouth.
The new lighting scheme in the bay is being planned after green laser lights installed for the 2012 Olympic Games proved unpopular in the seaside town.
The lights on lampposts are being designed to work either with or without the lasers which in a consultation 70% of people disliked.
Designs for the scheme will be on show at Weymouth Library on 18 and 19 May.
The architectural firm Tonkin Liu is behind the scheme.
Anna Liu from the firm said: "We want to bring back the magic and delight of a stroll along the esplanade.
"The beauty of the system we propose is that it is easy to programme and easy to change - different moods can be created for different times of day, to celebrate seasonality and to reflect different activities on the beach."
The final designs for the scheme, which received its funding from the government's Coastal Communities Fund, are expected to be formally signed off in July.
If planning permission is approved, the new lighting scheme could be switched on in spring 2019.
The future of the current lasers has yet to be decided.