Dorset councils merger: Christchurch starts bid to halt proposals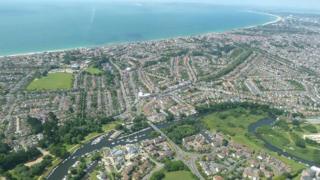 A bid to halt local authority mergers in Dorset has been launched by Christchurch Borough Council.
Plans to replace nine councils with two unitary authorities were approved by the then Local Government Minister Sajid Javid in February.
Christchurch Borough Council, the only local authority to oppose the move, has written to the government saying it had acted "beyond its powers".
The new structure is aimed at saving £108m over six years.
Under the plans, all nine councils would cease to exist and Bournemouth, Poole and Christchurch would merge.
The second council would be formed from Dorset County Council, East Dorset, North Dorset, Purbeck, Weymouth & Portland and West Dorset.
An eight-week consultation held in 2016 found residents "overwhelmingly" supported the plans, however it was rejected in a local referendum held in Christchurch.
The eight other authorities voted to support the proposal.
In February Mr Javid said he was approving the scheme which was "likely to improve local government and service delivery in their areas".
Deputy Leader of Conservative-run Christchurch Borough Council Patricia Jamieson said a letter had been sent to the new Secretary of State James Brokenshire.
The council has already submitted its own plan for the restructuring of Dorset's local authorities to the government.
She said the council would wait for a response before deciding its next move.
If given parliamentary approval, the new structure would come into effect in April 2019.