'Bogus doctor' Ozan Melin convicted over fake 'Botox' injections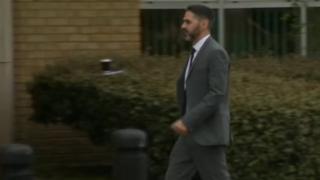 A man who claimed to be a doctor and gave two women what they thought was Botox has been found guilty of inflicting grievous bodily harm (GBH).
The women suffered swelling and burning after being treated by Ozan Melin, 42, from Uxbridge, west London.
He was convicted of two counts of GBH and cleared on one count, following a trial at Bournemouth Crown Court.
The jury heard the victims were injected with an "unknown and extremely dangerous substance".
Melin, of Pole Hill Road, visited customers in private homes or beauty salons and told them he was a cosmetic surgeon who had trained in the US, the court heard.
However, Simon Jones, prosecuting, told the jury: "That was a lie, he was not a doctor and was not qualified."
The prosecution said the case involved the "reckless use of an unknown and extremely dangerous substance into people who were misled into believing Mr Melin's medical competence".
One of the women - Marcelle King from Poole, Dorset - went to police after suffering a severe reaction to what she believed was a Botox injection in August 2013.
She went to hospital and was given medication after her face swelled and she felt what she described as "chemical-type burning".
Ms King told the BBC she had "enormous blisters" under her eyes which meant she was temporarily unable to see.
"The burning was really, really awful," she said.
"You could tell the whole body had been affected by it... my eyebrows were like three inches higher.
"It was just a horrible experience."
The second victim, Carol Kingscott, from Bristol, said she looked like she had been "in a fight and lost" after her procedure.
Melin was remanded on bail to be sentenced on 8 June.