Dorchester's Tolpuddle Martyrs court reopens after revamp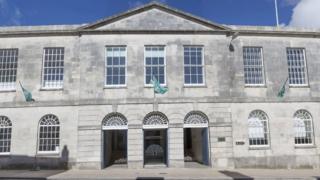 The court building where the Tolpuddle Martyrs faced trial in 1834 has opened as a museum after a £2.9m revamp.
The case against the six farm labourers at Dorchester's Shire Hall is regarded as a founding moment in the trade union movement's history.
Another story to be told at the new attraction is that of Martha Brown, the last woman to be hanged in Dorset.
Her execution, witnessed by the author Thomas Hardy, was said to have inspired his novel Tess of the d'Urbervilles.
Hardy served as a magistrate at Shire Hall, which opened in 1797 and was the county hall for Dorset and a crown court for more than 200 years.
Others stories told at the museum include that of a 12-year-old girl sent to reformatory school for five years for stealing a cloak, and a woman sentenced to six months' "hard labour" for stealing a skirt and jewellery.
Historian and museum curator Rose Wallis said the attraction aimed to explain "why we relied on physical punishments on apparently arbitrary rulings".
"When this court first opened we were at the height of the Bloody Code where more than 200 offences could be punished by death - including the theft of things worth over a shilling, like knives and shirts," she added.
The Tolpuddle Martyrs were deported to Australia after protesting about their wages.
Martha Brown was hanged at Dorchester Prison in 1856 for the murder of her abusive husband.
Planning permission for the Grade I listed building was granted in 2014 and the project received £1.5m of Heritage Lottery funding in 2015. Building work started in 2016.
The renovation includes a cafe, gallery and temporary exhibit space, as well as interactive guides with audio and images.
---
The Tolpuddle Martyrs
Farmhand George Loveless and five fellow workers - his brother James Loveless, James Brine, James Hammett, John Standfield and Thomas Standfield - met under a tree in 1834 to form a "friendly society" to protest against their meagre pay of six shillings a week
They were arrested for the crime of swearing an oath of secrecy and sentenced to seven years' transportation to an Australian penal colony
After the sentence was pronounced, popular opinion swung in support of the men. There was a demonstration in London and an 800,000-strong petition was delivered to Parliament
The government eventually relented and the men returned home with free pardons
The village of Tolpuddle hosts the annual Tolpuddle Martyrs Festival each July in their honour
Source: Tolpuddle Martyrs Museum