Leisure centre revamp plan criticised over lack of dive pool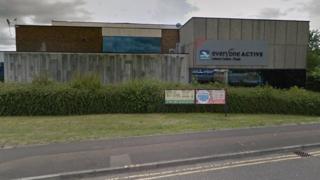 A diving club has said it will be forced to close if town centre regeneration plans go ahead.
Borough of Poole Council has agreed plans for a new leisure centre without a diving pool as part of a £132m revamp.
Members of Wessex Diving Club said they would have to travel to Southampton to use the nearest diving facilities.
The council said it had to be "mindful of the costs involved".
Wessex Diving Club, which currently has more than 45 members, has been based at Poole Leisure Centre since the mid-1970s.
The club said the nearest facilities are at the Quays leisure centre in Southampton - almost 40 miles away.
'Financial constraints'
Chairperson Janet Latham said it was an "absolute tragedy".
"We've been going for a very long time and had a lot of children pass through our hands - there'll be no more diving once there is no diving pit."
About 1,000 people took part in a consultation over three options for a new leisure centre as part of the redevelopment.
The option which had a learner pool and larger gym but without a diving pool was supported by 55%.
The council said it would cost an extra £2.7m to create a pool with a diving pit.
John Challinor, spokesperson for leisure on the council, said: "A significant number of people would like a diving facility but we have to be mindful of the costs involved.
"The overall scheme will offer a lot more for a lot of people - it's about delivering something that will suit the majority of people in the town within the financial constraints we have."