Life-saving rescue in Bournemouth captured on dashcam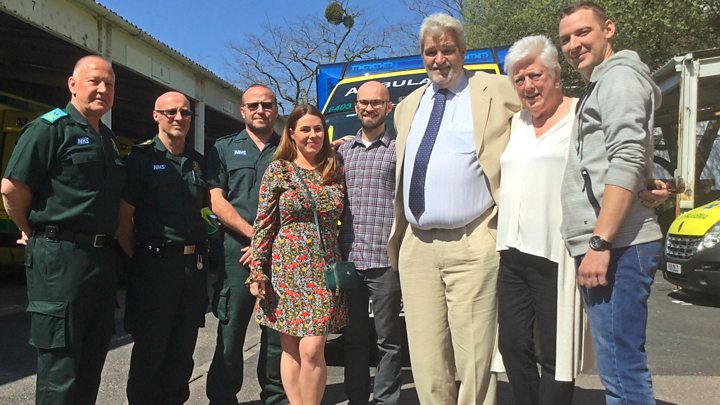 "Extraordinary" dashcam footage captured the moment a driver's life was saved when he suffered a cardiac arrest behind the wheel.
Kevin Steele, 66, from Bournemouth was dragged out of his car by passers-by who administered CPR before paramedics arrived.
Mr Steele recovered from a subsequent coma to thank his rescuers at a reunion on Friday.
He said: "It's been amazing to meet the people who literally saved my life."
'Lay slumped'
The retired aviation director was driving home after watching a football game in November 2017 when his heart stopped beating.
His car slowed to a halt in Bournemouth's Wellington Road as he lay slumped behind the wheel.
The stationary car was spotted by passers-by who came to his aid.
One called 999 while a trio in a car in front stopped and dragged Mr Steele out of his car to administer life-saving CPR.
Paramedics took him to Royal Bournemouth Hospital's intensive care unit, where he made a full recovery.
Meeting his rescuers, Mr Steele said: "Words cannot describe how grateful I am.
"They really were an A Team of lifesavers, and my family and I will be eternally grateful."
'Extraordinary episode'
South Western Ambulance Service (SWAS) said it was an "extraordinary episode" captured on Mr Steele's car dashcam.
SWAS released the footage to highlight the importance of knowing CPR - short for cardiopulmonary resuscitation.
One of those in the car, Izabela Fiszbach, said: "I was so happy to hear Kevin was alive, and it's been brilliant to meet him.
"It shows how much difference people can make if they are prepared to help in an emergency.
"I'd encourage anyone to do CPR."