Poole Bridge reopens following repairs to safety gates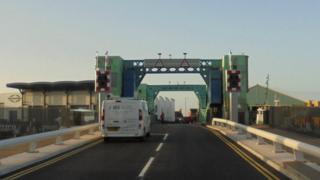 A troubled lifting bridge has reopened to road traffic nine days after it was closed for repairs to its safety gates.
Council officials shut Poole Bridge to cars on 8 April because of damage caused by a "technical problem".
It was scheduled to reopen on Monday but faced unexpected delays, prompting Borough of Poole to apologise.
However, on Tuesday evening the authority confirmed the bridge was open again, adding: "Thank you for bearing with us."
The latest delay followed the 91-year-old structure's reopening in January after major repair work, which was completed seven months behind schedule.
Hold-ups to the reopening of the crossing, which links the town centre to the port and ferry terminal, included delays in the delivery of materials and adverse weather conditions.