'Would-be' Good Samaritan 'stole' injured walker's phone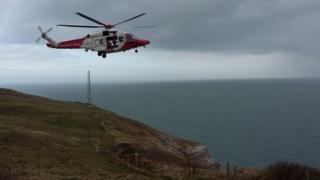 A would-be Good Samaritan who was asked by an injured walker to dial 999 disappeared with the victim's phone.
Ralph Silverman, 61, from Walthamstow, slipped and broke his ankle on the South West Coast Path in Swanage, Dorset, on Sunday.
There was no mobile phone signal where he had fallen so he asked a passer-by to walk to an area of signal and help.
The man took the phone but did not dial 999 and never returned. Police are investigating.
'Call for help'
Mr Silverman was on a two-day walking holiday and was near Durlston Country when he fell.
He described how the passer-by who introduced himself as "Harry" said he would take his phone and raise the alarm.
"I asked him to call for help - that's the last I saw of my phone ... and him."
Within half an hour another passerby, came across Mr Silverman and called the coastguard.
He was airlifted to hospital and is now at home awaiting an operation on his ankle.
Swanage Coastguard said Mr Silverman's phone rang when dialled, but it was not answered. No call was made to the emergency services.
"We'd hate to think that this was a malicious act, but sad to say that at the moment it is being treated as theft."
Mr Silverman said the experience had not put him off walking on Dorset
"Apart from Harry, I was only met with kindness. Next time I'll take my wife."