'Arson' destroys Powerstock Common reserve bat roost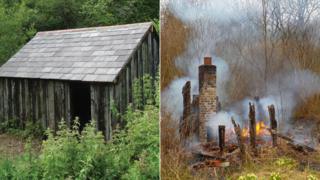 A fire has destroyed a former railway hut and registered bat roost on a nature reserve in Dorset.
The blaze at the "old gangers" hut on Dorset Wildlife Trust's Powerstock Common reserve, near Maiden Newton, happened on Friday and is believed to have been started deliberately.
The hut was a roost for species including the lesser horseshoe bat, the trust said.
Dorset Police said it was investigating but no arrests have been made.