Dorset NHS hospital shake-up plans face judicial review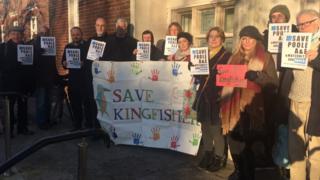 A decision to reorganise Dorset NHS hospital services is to face a judicial review.
Dorset Clinical Commissioning Group (CCG) agreed changes, including the closure of Poole's A&E, in October and an attempt to get the decision reviewed by the government failed in December.
However, pressure group Defend Dorset NHS applied for a judicial review and has been granted a full hearing.
A date for the hearing at London's Administrative Court is yet to be set.
The county council's health scrutiny committee had said it had concerns about the loss of beds and services.
However, in December the authority's joint committee said the decision would not be referred to the health secretary.
Under the plans, being implemented over the next four years, Poole Hospital will lose its accident and emergency, maternity and paediatric services to Bournemouth, which will become the main emergency hospital. Poole will become a centre for planned treatment and operations.
The CCG also agreed Dorset County Hospital in Dorchester should find ways to share its paediatric and maternity departments with Yeovil District Hospital in Somerset.
Changes to mental health acute care include the closure and relocation of beds at the Linden unit in Weymouth and the creation of extra inpatient beds at St Ann's Hospital in Poole and Forston Clinic, near Dorchester.
The changes are aimed at avoiding a projected funding shortfall, estimated to be at least £158m a year by 2021.
Defend Dorset NHS said it would begin fundraising to support its court campaign.