Ousted Portland beach hut owners 'could lose £500,000'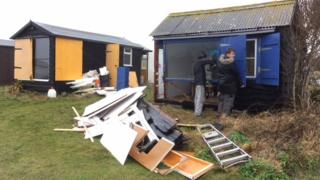 The owners of five beach huts have said they stand to lose about £500,000 after a failed legal claim against their landowner.
Their case was dismissed by a High Court judge, who ruled that "promised" rights to keep huts on land at Portland, Dorset, did not apply.
The hut owners have been evicted after refusing to sign new contracts imposed by landowner Howard Legg.
Three of the huts were removed over the weekend.
Hut owner John Hort said: "It's obviously a sad day because the chalets have been passed down through generations.
"All we've done is said: 'We don't believe we have a tenancy which is a licence, we have a better tenancy than that.'"
In his ruling in December, Judge Paul Matthews said the claimants had mistakenly thought their tenancy rights relied on informal "promises" and "local custom".
He ruled the hut owners had annual tenancies and could be evicted at the end of each year.
Owner Julie Moverley said she had relied on a "gentleman's agreement" which she thought guaranteed her rights.
She said: "A High Court judge has come along and said well that's not good enough, Mr Legg can give you notice for whatever he wants, whenever he wants."
She said the hearing had cost the group £165,000 in legal fees plus the loss of their £25,000 huts, and they could be forced to pay Mr Legg's legal costs of £190,000.
Mr Legg, a former Liberal Democrat parliamentary candidate, said only five out of 71 hut owners had eventually refused to sign the contracts, which he imposed in 2013.
He said: "The option they particularly wanted, an infinite lease, was not on the cards.
"There are 280 huts on Portland Bill. They're all temporary and always have been. They're trying to change something they've had no right to."