Weymouth North Quay apartment plan approved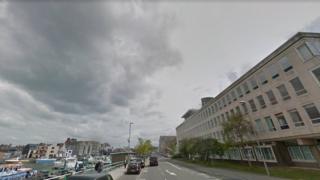 The government has given the go ahead for a former council office building to be turned into apartments.
The £4.5m sale of Weymouth & Portland Borough Council's North Quay offices to developers fell through after it emerged the building was "sui generis".
The council said it could only be used for the administration of local government without planning permission.
The Planning Inspectorate has declared the development is a change of use and planning permission is not required.
The plans for the four-storey development have been approved subject to a number of conditions, including the provision of car parking and a flood risk assessment at the site.
It is unclear if the sale will resume - in a statement the authority said it would "examine the decision in more detail before issuing a fuller response."
Jeff Cant, leader of the council said: "We fully intend to get the best outcome for the community from this flagship site."
Developer, North Quay Weymouth Ltd (NQWL) is yet to respond to a request for comment.
A bid for costs made by NQWL against Weymouth & Portland Borough Council was refused by the Planning Inspectorate.
The council exchanged contracts with NQWL in September 2016, the sale was due to complete in July,
The authority is spending about £10,000 a month maintaining the empty building which closed in April 2016.