Funeral for 'natural death' campaign boy William Townsend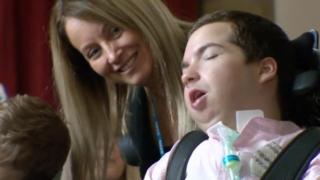 The funeral of a 17-year-old boy whose mother fought a lengthy battle for him to be allowed to die has taken place.
William Townsend, from Marnhull in Dorset, was kept on life support after suffering severe brain damage at three weeks old.
His mother Victoria successfully argued for the right to refuse aggressive medical intervention if he became critically ill.
She set up the charity Breathe On UK to support families in the same situation.
Mrs Townsend paid tribute to her "beloved son" who she described as a "warrior" during the service in his home village.
She said the charity he inspired her to launch in 2004 would be attending this year's Royal College of Child Health and Paediatric national conference in his memory.
In a message read out during the funeral, consultant respiratory paediatrician Dr Martin Samuels said the charity carried out "vital work".
"William's life has given life to the charity Breathe On, and that way William's life has touched the hearts and souls of many families he never knew," said Dr Samuels, who works at Great Ormond Street Hospital.
A massive cerebral haemorrhage left William completely paralysed, partially sighted and resulted in epileptic fits.
In 2009 his mother urged doctors to review his £500,000-a-year care package because she feared he could be suffering.
Medics agreed not to give him aggressive treatment if he developed infections, and to turn off his ventilator should he reach a certain point in his palliative care.
In the event, William stopped breathing on his own.
Following her son's death at the weekend, Mrs Townsend said: "I am glad he is no longer imprisoned in his body any more.
"He will never leave my heart and thoughts but I am so glad he took the decision away from us and died peacefully."