Harry House murder: 'Lost opportunities' in Broadmayne toddler death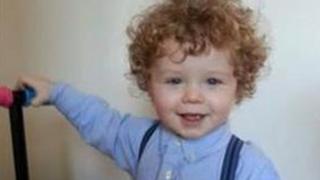 Opportunities were lost in identifying problems that led to the death of a toddler who was murdered by his mother's partner, a report has found.
Joseph Eke, 22, was found guilty of murdering two-year-old Harry House at the family home in Broadmayne, Dorset, in May 2016.
He was sentenced in June to a minimum of 18 years in prison.
A serious case review has also found mistakes were made by agencies, including a name mix-up by police.
Dorset Safeguarding Children Board said it had "highlighted" areas of concern over domestic abuse, and was working with all agencies sharing information about vulnerable families.
Eke's trial heard Harry died after being kicked and punched, and also had a fractured skull.
The independent review said Eke and Harry's mother, named only as Mr SF and Ms M, had only been living together for 35 weeks when Harry was murdered.
During that time police were called to two reports of domestic abuse.
The first involved Harry's father, who Harry's mother had previously split from, threatening Eke, but police failed to name Eke in their report so agencies were unaware he was living at the family home.
In a further report of domestic abuse involving Eke and Harry's mother, police confused Harry's father with Eke in their paperwork because they both have the same first name, the review said.
'Not good enough'
It also found Ms M's GP failed to receive notification of a domestic abuse incident.
The review discovered medical staff had not asked the toddler how a cut to his face, which was treated as accidental, had happened when he was admitted to hospital.
Eke had been "well known" to a number of agencies since infant school and suffered physical and emotional abuse as a child, the report continued.
Harry's mother had been known to social workers since her early teens and had issues "likely to impact on her adult relationships and her choice of partner", it added.
Sarah Elliott, chair of Dorset Safeguarding Children Board, said: "Although there were many agencies and services working with this family, it appears that there was not one particular service or agency that looked at the whole picture. This is not good enough."