Swanage-Wareham rail line reconnection trials face delay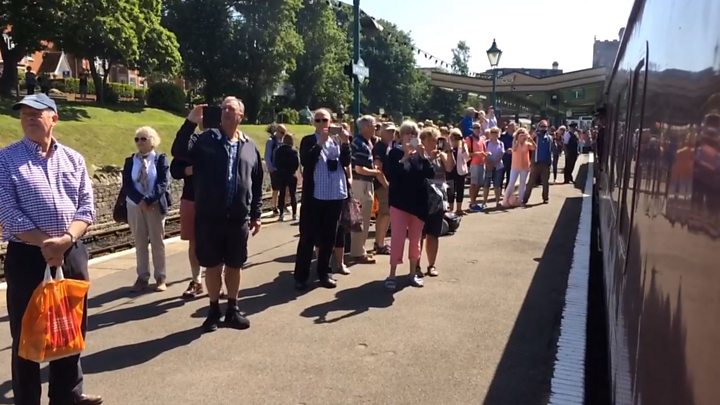 Further trials of regular passenger train services between the mainline and a Dorset seaside resort after 45 years have been delayed.
The original line from Swanage to Wareham was closed by British Rail and ripped up in seven weeks, in 1972.
Last summer, Swanage Railway's first timetabled trains ran along the full 10-mile route as part of a trial.
However, due to a delay in a revamp of its trains the next trials will miss this year's peak summer season.
Volunteers rebuilt the 5.5-mile (8.8km) stretch from Swanage to Norden over 30 years and have been running it as a tourist attraction since the 1990s.
After work was completed on the section of the track from Norden to Wareham to connect it to the mainline, a trial service began last June and ran for 60 days.
However, the railway's own diesel trains, which started undergoing upgrade works in 2014, were not ready in time and West Coast Railways rolling stock was brought in.
Now, the heritage units for the line will also not be ready this summer for the intended 90-day trial period. It is now hoped the trials can resume in September.
The firm said a full second year of the trial is set to start during Easter next year.
Mark Woolley, of Swanage Railway, said: "The trial is not just about getting the maximum income at the busiest time of the year.
"We are committed to running our trains when we can. We want a sustainable long-term development of a service."
Swanage Railway history
1979 - Swanage Railway runs its first diesel train over a few hundred yards of track
1980 - First Swanage Railway steam train runs
1995 - Passenger trains run between Swanage and Norden, via Corfe Castle
2002 - Swanage Railway's tracks meets the national railway system at Motala
2014 - New signalling system between Swanage Railway and Network Rail commissioned
2016 - Norden Gates level crossing officially opens
2017 - Reconnects to the mainline