Christchurch bids to stop Dorset councils reorganisation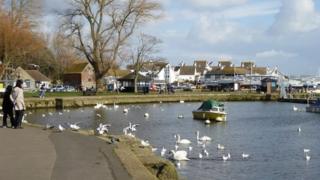 A council in Dorset is to ask the government to stop plans to merge all the county's councils into two single authorities.
Christchurch wants Bournemouth and Poole boroughs to combine, but does not want to be part of that new authority.
A referendum in the town saw 84% of those voting oppose amalgamation with Bournemouth and Poole.
Christchurch is also asking for the rest of Dorset to keep its current council structure.
It is the only authority opposing plans to merge councils into two unitary authorities.
Christchurch Borough Council agreed at a meeting on Tuesday to make a representation to Local Government Secretary Sajid Javid.
It has asked for additional time to work on its proposal and has approved an initial budget of £15,000.
Mr Javid previously said he was minded to approve plans to merge Dorset's nine councils into two unitary authorities, known as "Future Dorset".
Under the plan Dorset County Council would cease to exist.
Bournemouth, Poole and Christchurch would merge into one local authority and a second would be formed by combining East Dorset, North Dorset, Purbeck, Weymouth and Portland, and West Dorset councils.
'Retain sovereignty'
Christchurch council said it believed there was "greater strength in developing a mixed approach to the way services are delivered", rather than implementing "two new large and remote unitary councils".
It has estimated its plans will create savings of £29.9m per year, which it said was the same as those put forward in the Future Dorset model.
Leader of Christchurch Borough Council David Flagg said the authority wanted to "retain our sovereignty" and said Bournemouth and Poole councils were already sharing a number of services.
The council said it would oppose the current plan "through all appropriate means and strongly support its MP in any action designed to prevent the frustration of the democratically-expressed wishes of the people of Christchurch" if Future Dorset plans were agreed by Mr Javid.