Rescued seal pups returned to sea in Poole Harbour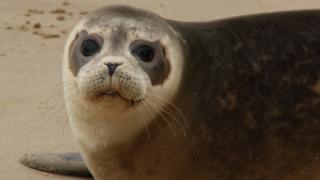 Three seal pups, rescued after being found severely underweight, have been released back into the wild.
Dorset Wildlife Trust, which helped release the animals, said one of the pups - called Enzo by rescuers - weighed just 11kg when it was found in Portland Harbour in August.
All three had to learn to feed themselves and reach a weight of 35kg before being returned to the sea.
They were released at Poole Harbour by Dorset Wildlife Trust and the RSPCA.
More on this and other stories from across the South of England
Conservationists said they usually rescued just one or two pups in Dorset each year but had seen "lots" of young seals in recent weeks following storms Ophelia and Brian.
The common seals - Kit, Enzo and Dodge - were cared for at the RSPCA West Hatch Wildlife Centre in Taunton, Somerset, before being returned to the sea in Poole Harbour.
Enzo and Dodge were rescued from Portland Harbour in August, while Kit was found across the border in south Devon.
All three have been photographed and tagged to allow Dorset Wildlife Trust to record sightings.
Volunteer marine warden Sarah Hodgson said: "Releasing the seals back into the wild all looking happy and healthy was a special moment.
"Being highly mobile animals, we don't know if they will choose to stay in Poole Harbour with the other resident seals, so it will be interesting to monitor their progress."