Stricken otter spotted with plastic tie around its neck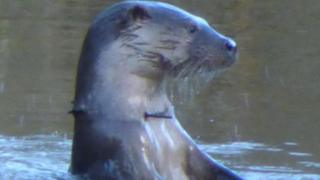 Plans are under way to capture an otter seen swimming in a river with a plastic cable tie lodged around its neck.
The animal, believed to be a male, was spotted in the River Stour at Blandford, Dorset.
Dave Webb from the UK Wild Otter Trust (UKWOT) said there are fears it "could drown or choke" as the plastic tie could get caught underwater.
The trust said it was seeking permission from Natural England to trap the otter and remove the tie.
Mr Webb said the animal was being monitored but was not displaying any sign of distress.
It has prompted the UKWOT to launch a poster campaign to urge people visiting rivers and lakes not to leave litter.
The charity said: "Rubbish being left behind is a huge issue. If you leave rubbish for wildlife to get trapped or caught in - often they die a painful death."