Jack Gudge inquest: Alcohol 'contributed to' teen's fight death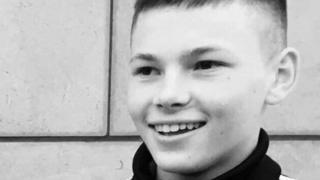 Alcohol contributed to the death of a teenager who died after a single punch during a street fight, an inquest has heard.
Jack Gudge, 17, died after being found unconscious in Wimborne Road, Winton, Bournemouth, on 16 July last year.
Post-mortem tests found he had sustained a brain injury.
Pathologist Deborah Cook told the hearing even small amounts of alcohol can have a negative affect on the body if there is a brain injury.
Jack was found to be one-and-a-half times over the drink-drive limit, which Ms Cook said was "not excessive".
The cause of death was respiratory and cardiac arrest due to a brain injury "augmented by alcohol", she told the inquest at Bournemouth Town Hall.
The inquest previously heard the fight happened after a house party in Moordown, where Jack and some friends had been drinking alcohol and smoking cannabis.
Karl James punched Jack after the teenager initially punched someone else, the hearing was told.
Witness Melanie Snooks said Jack shouted "come on, come on" as though he was "looking for trouble".
Another witness, Geno Lewis, said the punch by Mr James "lifted [Jack] off the floor".
'Self-defence'
Previous witnesses said Jack was also kicked in the head and legs, however, Ms Cook and Dorset Police said there was no evidence of this.
Senior investigating officer Neil Devoto told the inquest there was evidence to support Mr James' claim that he punched Jack in self-defence.
He added there was "insufficient evidence of a realistic conviction".
Dorset Police said an investigation into the death had concluded and four people held on suspicion of murder were released without charge.
The inquest was adjourned until 18 December.