Appeal bid to save Graham Herbert's Dorset photographs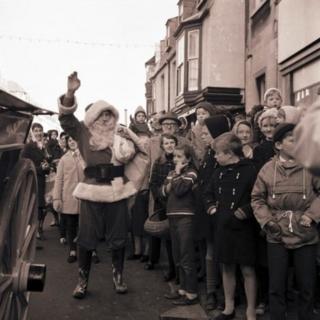 A crowdfunding bid to save a photographer's collection of images depicting more than three decades of life in a seaside town has launched.
Photographer Graham Herbert, from Weymouth, amassed more than 7,000 packets of negatives before he died in 1983.
The images of street scenes and local industry taken between the 1950s and early 1980s are at risk of decay, according to Dorset Archives Trust.
It needs £8,000 to digitise the images.
The trust said the negatives, which were donated to Weymouth Library by Mr Herbert's widow, are succumbing to "vinegar syndrome", which causes film to decay and give off an acidic vapour.
More on this and other stories from across the South of England
In a bid to slow the pace of the deterioration, they are being stored in climate-controlled rooms at Dorset History Centre in Dorchester.
"There is no treatment as yet that can reverse or stop this condition and without intervention to digitise the collection, it will be lost," the trust said.
County councillor Clare Sutton said the images provided a "fascinating window" into the county's past.
"I very much hope they can be preserved for future generations," she added.
Mr Herbert ran a family photographic business in Weymouth, and was also a president of the Wessex Centre of the Institute of British Photographers.
He was the first photographer to be used by the Dorset Echo newspaper.