Christchurch residents to vote on Dorset councils merger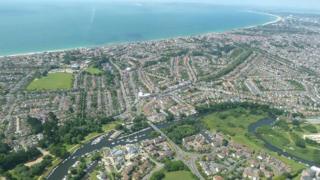 Residents are to be given their say on plans to merge Dorset's nine councils into two new unitary authorities.
Secretary of State for Local Government Sajid Javid said he was "minded to" approve the plan despite opposition from three councils.
Christchurch Borough Council previously postponed a postal referendum when the general election was called in May.
Leader David Flagg said papers for the ballot would be sent out at the start of December.
He said there was "a general feeling" residents were opposed to a new unitary authority.
Christchurch councillors are due to convene on 16 November to set an exact date.
More on this and other stories from across the South of England
Christchurch MP Chris Chope said he would hold the government to its promise not to abolish a council against its will.
Under the plans, all nine councils would cease to exist.
Bournemouth, Poole and Christchurch would merge.
The second council would be formed from East Dorset, North Dorset, Purbeck, Weymouth and Portland and West Dorset.
'Deliver a prize'
Christchurch, East Dorset and Purbeck councils all voted against the mergers earlier this year.
Purbeck District Council leader Gary Suttle said the authority's position had not changed since the scheme was rejected by councillors earlier this year.
West Dorset leader Anthony Alford added: "This change promises to deliver a prize that is far greater than any council can achieve in its current form."
A period of representations from the affected councils will run until 8 January when Parliament will have the final say.
Mr Javid said: "I understand that all the councils in the area are already working together in joint implementation committees.
"However, further steps are needed to secure local consent, and I hope this announcement will facilitate the necessary discussions to conclude this."
The reorganisation was proposed after it emerged the authorities had to make £200m of savings by 2019.
An eight-week consultation held in 2016 found residents "overwhelmingly" supported the plans.