Angler who swallowed Dover sole 'lucky to be alive'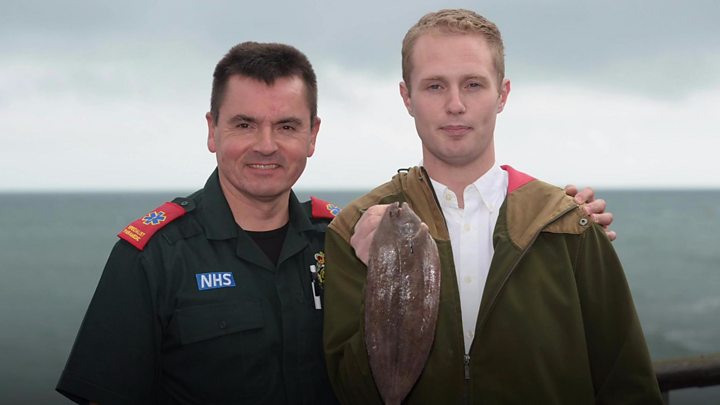 An angler who nearly died when he accidentally swallowed a fish he had just caught said he feels lucky "beyond a lottery win" to have survived.
Sam Quilliam, 28, stopped breathing and suffered a cardiac arrest after the Dover sole wriggled out of his hand and "swam down" his throat.
He was kissing the fish in celebration of his catch on Boscombe Pier, Bournemouth when the accident happened.
Paramedics managed to retrieve the fish from his airway with forceps
Mr Quilliam described how he had caught the 14cm long Dover sole while fishing with friends on 5 October.
"I went to give it a kiss before throwing it back and it literally, like a bar of soap, shot out of my hand into my mouth and basically swam down my throat," he said.
"I ran around like a headless chicken and then collapsed."
'Sheer panic'
Members of Boscombe Pier Sea Anglers performed CPR on their friend when he passed out before the arrival of emergency crews.
Steven Perry was among those who went to Mr Quilliam's aid during the "horrendous" ordeal.
"It was just sheer panic to see your friend dropping in and out of consciousness. We acted on our instincts. I thought he was gone," he said.
"We've had people joking about it and taking the mick but if they were there and saw the severity of it they would never have laughed."
Paramedic Matt Harrison, who took seven attempts to remove the fish from Mr Quilliam's throat, said it was his "most bizarre" call-out.
"It was clear that we needed to get the fish out or this patient was not going to survive the short journey to Royal Bournemouth Hospital," he said.
"I used a laryngoscope to fully extend the mouth and throat and saw what appeared like an altered colour of tissue in his throat.
"I was able to eventually dislodge the tip of the tail and very carefully, so as not to break the tail off, I tried to remove it - although the fish's barbs and gills were getting stuck on the way back up."
On returning to the scene of the drama for a news conference earlier, Mr Quilliam said he was still a bit shaken by the experience.
"You just don't expect it to happen. People do things like this all the time and you just don't expect it to happen to you," he said.
He said he had not ruled out ever kissing a fish again but admitted it would "probably [be] just a bit bigger... and not a sole".
The tradition of kissing a fish is widely credited to Australian TV and radio personality Rex Hunt who began kissing his catches in the 1980s.