Dorset PCC Martyn Underhill 'steps back' from national duties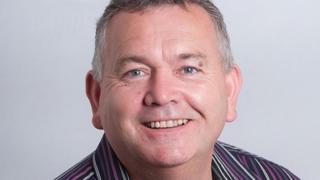 Dorset's police and crime commissioner (PCC) is to "step back" from national duties and his deputy is to retire due to ill health.
PCC Martyn Underhill wants to "limit" commitments outside of Dorset, partly due to his wife's ill health, his office announced.
He temporarily stepped aside from his role last year after she collapsed.
Deputy PCC Colin Pipe had taken "careful consideration" before deciding to step down, the office added.
It said the deputy would not be replaced "at this time".
The PCC said Mr Pipe had been a "valued advocate" at the office for more than two years, including working to improve the 101 service and police complaints process.
He also thanked him for stepping up and acting as commissioner when his wife fell ill last October.
'Dorset comes first'
When it came to his own role, Mr Underhill said he plans to "reduce the number of national portfolio areas" he works on in order to spend more time focusing on local issues.
He said he was withdrawing as the lead role on mental health from the Association of Police and Crime Commissioners (APCC). He will continue to be a member of the APCC.
"I am proud of the achievements I have contributed to nationally, but my role in Dorset comes first," he said.
"The chief constables of Dorset and Devon and Cornwall Police have recently announced their intention to explore the possibility of a merger.
"This will require a business case, public consultation and thorough PCC scrutiny to ensure the interests of constituents are fully represented throughout."