Dorset County Museum extension gets £11.3m lottery grant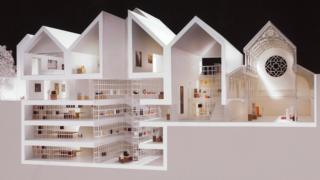 A project to upgrade Dorset County Museum has been awarded more than £11.3m in National Lottery funding.
The extension to the 19th Century museum in Dorchester includes new galleries, a learning centre, library, cafe and shop.
The original Grade I listed building was built to house the museum's collections, which now has four million artefacts.
Museum director Jon Murden said the award meant more items could be shown.
The Tomorrow's Museum - Making Dorset Proud project includes a learning and research centre archive and conservation workshops with a public gallery.
The £11,349,200 National Heritage Lottery Fund (NHLF) grant will mean more of the museum's collection can go on public show. Currently only 1.5% of the collection can be be displayed.
Dr Murden said: "For the first time, we will have the space to do justice to our amazing collections, whilst ensuring they are safely preserved for future generations to enjoy."
With the NHLF funding in place, the museum requires a further £1.6m to meet its target for the project of £15m.
Earlier this year planners approved proposals to reconfigure and extend existing buildings, install a shop front and demolish un-listed buildings.
The project is due to be completed by 2020.