Portland quarry attraction to open in 2020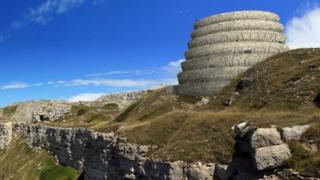 An attraction originally designed as a monument to extinction will open to the public in 2020, 10 years after it was first approved.
The Journey - previously known as the Mass Extinction Memorial Observatory (MEMO) - is being built on Portland on the World Heritage Jurassic Coast.
The £30m project, first given the green light in 2010, was originally designed as a spiral stone tower.
But funding pressures have led to a revised £16m scheme in a disused mine.
The evolution of the project follows a partnership with the Eden Project in Cornwall.
The attraction - which will now be dedicated to biodiversity, not extinction - will be built within the tunnels of Albion Stone's mines and accessed from Bower's Quarry on the Dorset peninsula.
It is predicted to attract 325,000 visitors a year, create 79 year-round jobs and offer an ongoing programme for 30 apprentices on Portland.
Weymouth & Portland Borough Council, Dorset Local Enterprise Partnership, Dorset County Council and a number of private benefactors have pledged funds towards the £1.6m cost of developing the project.