Blandford crash: Mother admits causing daughter's death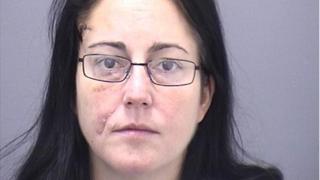 A woman has admitted causing the death of her three-year-old daughter while driving with excess alcohol and drugs.
Alanda Pike, 34, collided with a van on the A354 at Thickthorn Cross near Blandford, Dorset, on 24 August.
She and her daughter Louisa were airlifted to hospital, where the girl died the next day.
Pike, of Blackmore Road, Shaftesbury, was remanded in custody to appear at Bournemouth Crown Court for sentencing on 26 October.
Louisa was in the back seat of her mother's car when it pulled out in front of a van at about 07:40 BST, police said.
Both suffered head injuries while the van driver, a 44-year-old woman from Salisbury, suffered serious injuries to her hand and arm.
Pike's alcohol level would have been more than three and a half times the legal limit at the time of the crash, police said.
Her blood sample taken in hospital also contained a "breakdown product of cocaine".
She pleaded guilty to causing death and serious injury by dangerous driving and also to driving with excess alcohol and drugs.
Sgt Phil Lee said: "Alanda Pike's decision to drive while so intoxicated that day both through drink and drugs has resulted in truly devastating consequences."