Arne Moors wetland plans aim to protect birds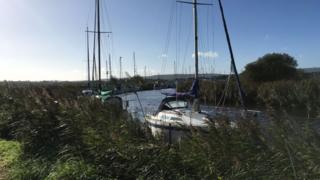 Plans to transform wetland in an Area of Outstanding Natural Beauty (AONB) in a bid to protect birds and habitats from being lost have been unveiled.
The Environment Agency wants to alter 150 hectares (370 acres) at Arne Moors in Poole Harbour, Dorset, to allow more salt water into the area.
Inter-tidal habitats, including salt marshes, are being lost due to rising sea levels, the agency said.
Part of the work includes building a tidal embankment.
Other plans by the Environment Agency, which is working with the Royal Society for the Protection of Birds (RSPB) and Natural England, include changing the flow of the River Frome at the estuary to stop the fresh water from getting into the salt water areas.
The work also aims to protect birds that breed and feed in the inter-tidal habitats including Redshank wading birds which have seen "plummeting" numbers on the site in recent years, Peter Exley, of the RSPB, said.
"Thousands of birds would be protected," he added.
This also includes avocets, common terns and sandwich terns.
The Environment Agency said freshwater habitat and Arne Road would continue to be protected from flooding as part of the scheme.
It added the project would also allow its work to continue to protect up to 10,000 properties around Poole Harbour from flooding, but added that work was a separate scheme.