Monarch collapse fails to thwart couple's wedding plan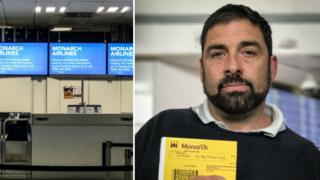 A couple left heartbroken when their wedding plan was thrown into chaos by the last-minute cancellation of Monarch flights say the event is going ahead.
Alan Jee, from Christchurch, Dorset, and his fiancee Donna Smith have re-booked flights from Gatwick to Gran Canaria for half their wedding guests.
Mr Jee, a bricklayer, said: "It's thrown a big spanner in the works. It's cost £8,000 - but we're still going."
The couple are due to wed on a heart-shaped "island" on Saturday.
Monarch ceased trading on Monday, with 300,000 bookings cancelled.
The couple, who were travelling with about 30 friends and family members, had their flight cancelled minutes before boarding on Monday.
After spending hours on the phone searching for replacement flights the couple managed to get flights for 30 guests on Tuesday and Wednesday.
Mr Jee said they had yet to find flights for another 36 wedding guests, who were due to fly at the end of the week.
"It's a nightmare. The wedding rehearsal, stag do and hen do have been cancelled - but we've just got to get on with it," Mr Jee said.
Mr Jee and Ms Smith said they had initially spent £20,000 on the wedding.