Monarch: Bride 'in tears' as wedding flight cancelled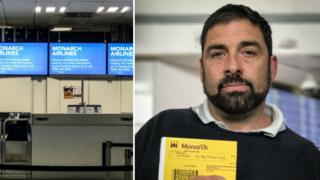 A bride and groom on the way to their own wedding had their flights cancelled minutes before boarding after their airline collapsed.
Monarch ceased trading on Monday, with 300,000 bookings cancelled.
Alan Jee, from Christchurch, Dorset, said his fiancee, Donna Smith, burst into tears after being told they would not be able to fly to Gran Canaria.
He fears they, along with dozens of other guests, will not be able to get to their ceremony on Saturday.
Bricklayer, Mr Jee, 42, said: "We went past passport control then, five minutes before we were due to go on the plane, they just put an announcement out saying everything's been cancelled and if we want to get flights anywhere else we have to pay for them ourselves.
"My missus just burst straight into tears, and my mother-in-law, and my mum.
"No-one's told us anything about it; we've tried speaking to Monarch but they've gone into liquidation. They can't get any more flights and we can't get a hotel out here until this is sorted."
Mr Jee and Ms Smith, 43, had spent £20,000 on the wedding where they were due to be accompanied by 70 family and friends.
Mr Jee said his wife-to-be contacted Monarch on Sunday and was told their flights from Gatwick would "be fine".
A statement on the Monarch website said: "We are sorry to inform you that as of 2 October 2017 all holidays and flights booked with Monarch Airlines and Monarch Holidays are now cancelled and customers should not go to the airport."
It said customers with flights booked directly with Monarch after 15 December 2016 were not ATOL protected and not entitled to claim through the CAA but were advised to contact their card issuer or insurer for a refund.