Bridport Vearse Farm homes decision delayed by a month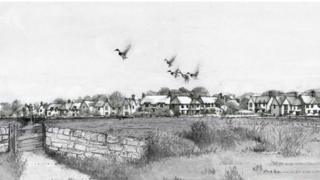 A controversial planning application for hundreds of homes on the edge of Bridport in Dorset will be decided in November - a month later than expected.
Developer Hallam Land Management wants to build 760 homes, a care home, a school and other facilities at Vearse Farm on the edge of the town.
Campaign group AdVearse has objected, citing flooding and traffic fears.
West Dorset District Council said the decision, originally due on 12 October, had been delayed to agree legal terms.
Planning councillor Ian Gardner said the authority's planning team needed time to agree conditions for the development.
"Anyone who has made representations on the application will be directly informed of the proposed date of committee when the agenda is confirmed," he said.
"We're anticipating the application to be heard at a planning meeting in November."
Green space
The land at Vearse Farm was originally earmarked for development by the council in 2013.
An outline planning application submitted by Hallam in 2015 received dozens of objections and a petition against developing the site gained more than 700 signatures.
The 2015 bid is now being held in abeyance while the amended application is considered.
There have been about 200 objections to the amended plans, which include updated flood and transport assessments, a new woodland planting belt, extra footpath and cycle links and green space, including allotments and community food growing areas.
The 70-hectare site of arable farmland is 1.7 miles from the Jurassic Coast.