Weymouth North Quay: Council and developer in legal fight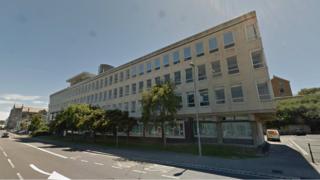 A council is facing a "multimillion-pound" legal action from developers after the sale of its former office building fell through.
Acorn is bringing the case against Weymouth & Portland Borough Council over its North Quay offices, which Acorn intended to turn into flats.
Both sides are accusing each other of reneging on the £4.5m deal.
The council said it had launched its own legal action against Acorn to recover its costs over the failed sale.
More on this and other stories from across the South of England
Acorn, which set up subsidiary North Quay Weymouth Ltd (NQWL) to oversee the project, claims it was given assurances from the council that planning permission would be granted for the building's conversion into apartments.
The developer said it was not until after contracts were exchanged that the authority informed it the building was categorised as "sui generis" - or one of a kind - meaning it can only be used for the purpose for which it was built.
The council, which is spending about £10,000 a month maintaining the empty building, said Acorn had been advised of the planning status at the bidding stage and it had been up to the developer to establish key details prior to exchanging contracts.
Acorn South regional managing director Stuart Callaghan said: "They have put us in a position where we have no option but take legal action which could ultimately cost hard-pressed council tax payers millions of pounds.
"It remains our hope that the council will review its position and proceed with the deal in the terms agreed between us."
The council said it was "extremely disappointed with Acorn's handling of the matter" and would be "vigorously defending its claim".
The authority said it exchanged contracts with NQWL in September 2016 and had been due to complete in July.