Poole school bus among five routes set for cuts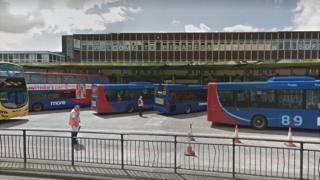 Five bus routes in Poole, including a school bus route, have been earmarked for cuts in a bid to save £70,400.
Borough of Poole is reviewing its subsidies as it tries to slash £19.9m from its budget by April 2020.
The authority said it expects to spend £472,000 subsidising bus services in the current financial year but has identified cuts of up to £93,000.
A final decision will be taken at the start of 2018 with the changes being implemented from May.
The Conservative-run council is proposing reducing or removing services.
A school bus route serving Allenbourn School in Wimborne is among those under threat.
Head of infrastructure Julian McLaughlin said: "The financial pressures on the council mean that some very difficult decisions have to be taken.
"Good progress has been made to reduce the bus subsidy budget through working with the bus companies to make savings with minimal impact on passengers, however, this is getting more challenging and the list of services drawn up with the bus companies will be valued by passengers."
The affected services are 7A/B/C, which serves Upper Parkstone and Tower Park, route 11 Poole to Kinson, 32 Poole-Broadstone-Bournemouth, 445 Bearwood to Allenbourne School and route H1 Broadstone-Upper Parkstone-Bournemouth.
Council officers will be travelling on buses to talk to passengers, who are urged to take part in an online survey.