Bestival: High winds force festival to evacuate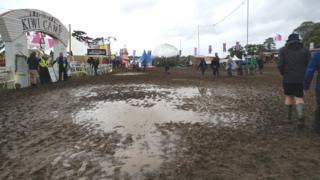 A music festival was halted and its arenas evacuated for an hour as high winds caused safety fears.
An estimated 30,000 people were at Bestival in Dorset when organisers were forced to cancel acts and move people away from temporary structures on Sunday afternoon.
Some revellers chose the moment to leave the event, which was battered by heavy rain throughout the weekend.
The site fully reopened and performances resumed within an hour.
Security guards began clearing arenas and sending festival-goers to campsites at about 15:40 BST on Sunday.
A message sent via the festival app and on Twitter said: "Due to high winds and for everyone's safety the main arena is temporarily closed. Please make your way to the campsites until we reopen gates."
Dozens of performances were cut short or rescheduled and some were cancelled altogether.
The festival fully reopened by 16:40 BST ahead of Sunday's headline act, Pet Shop Boys.
A statement said: "Bestival organisers can confirm that due to high winds there was a temporary arena-wide show stop at today's event.
"The safety of our audience, performers and staff is of utmost priority and with high winds exceeding safety guidelines we had no choice but to take the advice of our safety team to stop the event until these high winds abated and a full safety check of structures could take place.
"The event was stopped for less than one hour until the site was declared safe by health and safety and the audience was able to return."