Bestival: 'World record' confetti cannon fired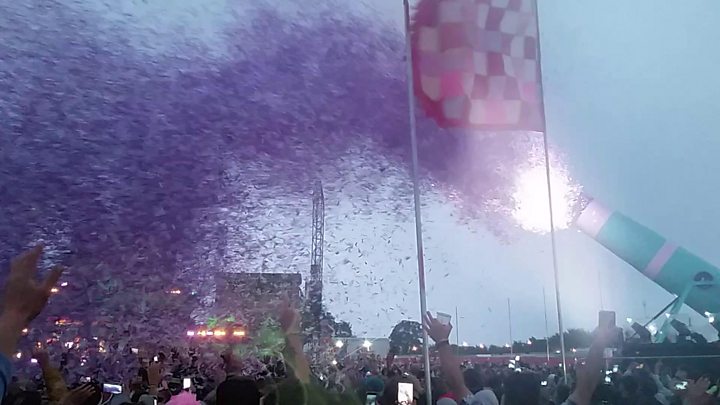 Bestival has opened at a new venue for the first time in 14 years - with a world record attempt for the biggest confetti cannon.
The music and arts festival, organised by DJ Rob da Bank, had previously been held on the Isle of Wight.
The event, at Lulworth Castle, Dorset, started on Thursday night with the cannon fired for the first time during a live BBC Radio 1 broadcast.
More than 30,000 people are expected to attend the event over four days.
There is currently no record for the world's largest confetti cannon and Guinness World Records is expected to assess the installation for an official record after the festival.
The cannon is six metres (19ft 8in) long and fires confetti 30 metres (98ft 5in) into the air. It holds 400,000 pieces of confetti, each one measuring 55mm by 15mm (2.2in by 0.6in), which can take up to five minutes to reach the ground.
It will be fired four times in total during the event.
Bestival had been held at Robin Hill Country Park, near Newport, since 2004.
Rob da Bank said the move to Dorset was down to the "boring economics of getting people on to the island".
This year's line-up ranges from Pet Shop Boys to the Rajasthan Heritage Brass Band.