Pupils miss school after Ferndown bus stop axed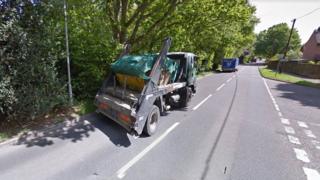 A father says his two daughters are unable to return to school after their bus stop was axed from revised routes.
Lee Nevitt's daughters missed the first day at West Moors School in Ferndown, Dorset, because the walk to the nearest alternative stop was "too dangerous".
Mr Nevitt, who is disabled, said he was unable to accompany the girls, aged 10 and 11, along a busy, unlit road to their new pick-up point 0.6 miles away.
Dorset County Council said it was "talking directly with the family".
Travel team service manager Chris Hook said: "We've communicated the changes to all school transport routes through letters to parents, schools, media outlets and social media throughout the summer.
"We've encouraged parents to check the new routes and bus stops and to raise any issues before the start of term."
Mr Nevitt said he contacted the council on Friday, as soon as the timetables were published, after discovering the girls would no longer be picked up from the same stop they had used for the last two years.
He said his wife, who worked away from home part of the week, would only be able to accompany them two days out of five.
Mr Nevitt said he was initially told nothing could be done but it was only when he contacted Verwood town councillor Jane Russell that he was informed there was an appeals process.
"This appeal could take two weeks. They can't just change a bus route overnight," he added.
"When we moved here we knew there was a bus route for the school and now, all of a sudden, they've taken it away."
Mr Nevitt said the school had written a letter in support of his appeal.
Mr Hook added: "We are dealing with this request to change the route and are talking directly with the family."