'Amazing' support for Gemma Conway's cat crash petition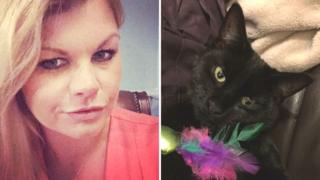 A woman who launched a petition calling for drivers to report crashes involving cats says she is amazed by the support she has received.
Motorists are required by law to report hitting dogs, horses and farm animals but cats, deer and other animals that roam free are not covered.
Gemma Conway, from Chickerell in Dorset, launched the campaign after her cat Bertie went missing in April.
It has so far gained more than 151,000 signatures.
Ms Conway says she is due to discuss a possible change in the law with West Dorset MP Oliver Letwin next month.
She added: "I joined the local lost and found group for cats on Facebook and there were lots of posts about cats being run over and being left on such-and-such a road. I just thought, why are these cats being left on the road? Why are they not being taken to vets?
"A cat is still as much of a loved pet as a dog, so I set up the petition and it's really taken off.
"It's been absolutely amazing support, literally across the whole of the UK."