Portland former coastguard helicopter base planning row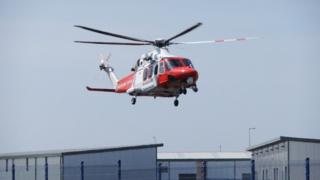 Plans to use a former coastguard helicopter base as a pilot training centre have been thrown into doubt because of a planning row.
Heli Operations purchased the base at Portland in 2016 and hopes to create jobs by offering pilot training there.
However, Weymouth and Portland Borough Council said the "change of use" required planning permission.
Heli Operations disagrees and said the base had previously been used for pilot training, including by the Royal Navy.
The Navy ran a base for pilot training on the Portland site between the late 1950s and 1995.
Steve Gladston, chief executive of Heli Operations, said he had also carried out search and rescue pilot training at the site when it was run by the coastguard.
"The base has been used for pilot training in a number of different forms for the last 50-odd years... and we are really just continuing on as a helicopter operating base," he said.
'Sui generis'
Jean Marshall, the council's head of planning, said: "Currently, the site has planning permission to be a search and rescue facility.
"The council considers this to be sui generis [unique], meaning the change of use to a helicopter training facility would require planning permission."
She added Heli Operations had been informed of this in November but had disagreed.
She added the firm had since applied for a certificate of lawfulness of proposed use or development - the statutory procedure set out for applicants to use when they wish to contend that what they are proposing to do would be lawful, without the need for planning permission.
Portland's coastguard search and rescue helicopter was axed in June despite a campaign and 100,000-signature petition to save the service.
A new coastguard helicopter serving the area is based at Lee-On-Solent.