Portland coastguard helicopter base handed to new owner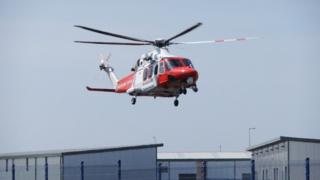 A coastguard helicopter base which closed earlier this year has been handed over to new owners.
Heli Operations bought the base at Portland, where it will offer search and rescue pilot training.
The company, which already provides air crew and support services at the site, completed the purchase of Osprey Quay on Wednesday.
It said coastguard aircraft would still be able to use the site for landing and refuelling.
South Dorset MP Richard Drax said: "Heli Ops will bring jobs and apprenticeships and a high level of professionalism to the area.
"Their instructors are all former Navy pilots and SAR experts, with the skills and expertise to attract contracts from across a wide spectrum of military and civilian aviation work."
More than 100,000 people signed a petition calling for the Portland coastguard helicopter to be retained.
The government said the new system of a fleet of helicopters operating from 10 bases would "modernise" the service and cut costs.
The new coastguard helicopter is based at Lee-On-Solent.