Weymouth Castle Cove Beach: Access agreed after five years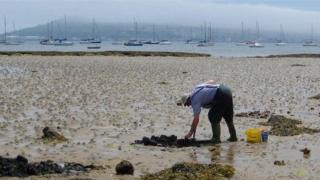 Access to a beach that has been deserted for five years following a landslip has been agreed by landowners.
Castle Cove Beach in Weymouth has been cut off to visitors since the 15m (49ft) access slope and steps were closed due to safety concerns in 2013.
Plans to build new steps were approved in April and the private landowners have since agreed lease access for 99 years.
Campaign group Friends of Castle Cove Beach described it as a "breakthrough".
'Kissed lawyer'
However, an official right of way has not yet been granted, though Friends of Castle Cove Beach has submitted an application to the county council.
A final decision will be made by the planning inspectorate.
"This is a major breakthrough for the campaign, and fantastic news for the local community," said Steve Elsworth, chair of trustees of the charity, of the lease access.
He added: "You can't believe how delighted we are. I kissed our lawyer when we heard the news."
The charity's application to build new steps was approved by Weymouth and Portland Borough Council, but it still needs to raise £30,000 before they can be constructed.
It aims to do this by crowdfunding and approaching local businesses.
The access slope that leads to where the steps used to be was resurfaced and reopened in December.
It was closed after cracks appeared and a section of steps at the bottom was taken away by Weymouth and Portland Borough Council.