Bournemouth cliff replacement pines damaged in 'fresh attack'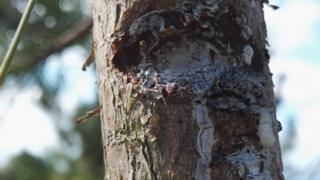 Six trees, planted to replace three pines that were deliberately poisoned in a seaside resort, have been damaged in a fresh attack.
Sections of bark have been carved out of the replacement pine trees on West Cliff Green, Bournemouth.
Chris Colledge, representing West Cliff Green Residents' Association, said it appeared the attacker would "go to any length" to remove the trees.
The suspected motive is thought to be to achieve an unimpeded sea view.
Mr Colledge added: "Words are insufficient to express the absolute outrage and disappointment."
The trees were planted and fenced off about three months ago by Bournemouth Borough Council.
The council has reported the fresh damage to police.
Its arboricultural manager, said: "We have inspected the trees and we are hoping it is just surface damage and that the trees will recover.
"However, we will continue to monitor them."
"I would encourage local residents to remain vigilant and to report any suspicious activity."
Dorset Police said it was investigating.
Last June three pine trees on the cliff top were deliberately drilled and had poison poured into them.
Two out of the three trees died.
The third pine was discovered with a crystal-like" substance on its bark was tested by the council which revealed the substance was the herbicide glyphosate.