Rope rescue for stranded paraglider on Dorset coast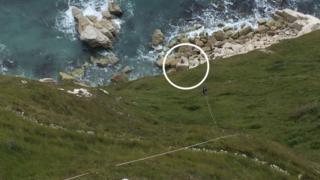 A stranded paraglider had to be rescued after making a forced landing on a remote beach.
The man became trapped on White Nothe near Weymouth after being caught in rough sea conditions on Saturday.
Rescuers used most of their 300m (1,000ft) of rope and a powered winch to pull him up the cliffs to safety.
Wyke Coastguard said the rescue had been in an "inaccessible" area. The paraglider was unhurt.
The specialist rope team was called in when it was clear sea conditions were too tough to rescue the man by sea.
The coastguard said the man's glider was also hauled up to prevent other people getting stuck trying to retrieve it.