Rare Aston Martin fetches £754,000 at Dorchester auction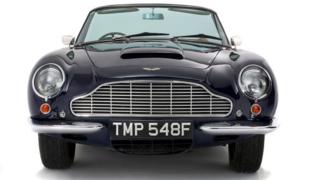 A rare Aston Martin car has sold at auction in Dorset for £754,000.
The convertible DB6 Vantage Volante was previously owned by the wife of media entrepreneur Sidney Bernstein.
Dukes Auctioneers said Sandra Bernstein who bought the car in 1968 "cherished it for the rest of her life before passing the car to her son".
It described the dark blue car, which has only covered 38,833 miles, and is one of just 29 produced as "in our view, the ultimate".
The Dorchester auction house said the car "one of the rarest post-war Aston Martins" was "so special due to its single family ownership and its remarkable originality."