Sandbanks hotels in £250m redevelopment bid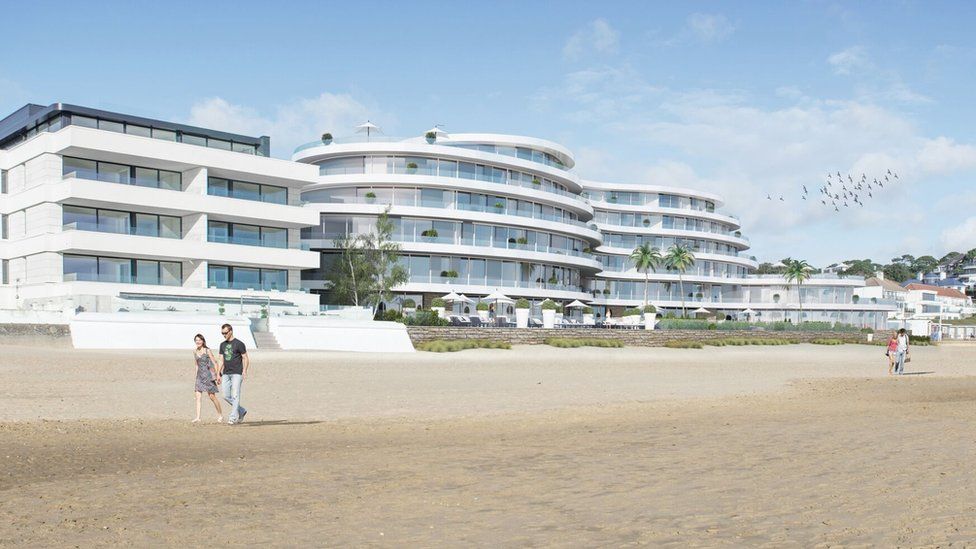 A £250m project to redevelop three hotels on the exclusive Sandbanks peninsula in Dorset has been unveiled.
Developers want to demolish buildings on three sites to make way for a new hotel, holiday apartments and flats.
Under the plans, Haven Hotel - which marks the entrance to Poole Harbour - will be replaced by 196 flats in four blocks as well as a restaurant.
Sandbanks Hotel, at the other end of the 1.5 mile-long peninsula, would be restyled as a 175-bedroom hotel.
Operator FJB Hotels also wants to turn Harbour Heights Hotel in Haven Road, at the start of the mainland, into 40 hotel apartments.
Managing director John Butterworth said: "The engineers tell us the structures of the buildings are coming to the end of their commercial life.
"The Haven was built with a steel frame in 1927... it's like trying to replace your skeleton without replacing your body, it can't be done."
Mr Butterworth said the large scale of the residential development would make it cheaper for buyers.
He said: "We want to build flats that we consider are more affordable than the sort of properties you find in Sandbanks.
"The main problem is, to build this new hotel is going to cost an awful lot of money - the engineers estimate it could be up to £80m - so we have to raise the money through the flats to build the new hotel.
"If we can't get the residential side then there isn't the finance there to build a new hotel."
Sandbanks is one of the UK's most expensive neighbourhoods. Residents include football managers Harry Redknapp and Tony Pulis.
An outline planning application for all three sites is being considered by Borough of Poole.
Related Internet Links
The BBC is not responsible for the content of external sites.