Dorset million-pound enterprise zone launched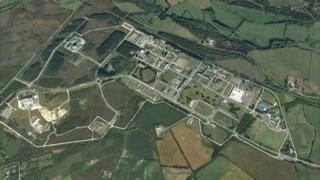 An enterprise zone has been launched to attract jobs and businesses to Dorset.
Dorset Innovation Park, in Winfrith, will offer companies relief from business rates and other taxes, as well as access to 'super-fast' broadband.
Officials claim 2,000 jobs and dozens of new businesses could be attracted to the county due to the incentives offered by the enterprise zone.
The construction of 20 new employment units on the site is already under way.
'Extra employment'
Enterprise zones are part of the Government's strategy to help businesses grow.
Gordon Page, chair of Dorset Local Enterprise Partnership said: "Dorset Innovation Park is a key strategic employment site for Dorset LEP and its success is an important element in working towards the objectives set out in our strategic economic vision for Dorset.
"Achieving enterprise zone status has enabled much-needed extra employment land to be freed up, both for existing companies on the site actively looking to expand and for companies across Dorset struggling to find space."
The site has already attracted two tenants in the defence technology business - QinetiQ and Atlas Elektronik UK.
John Sutcliffe, Dorset LEP board member and business development director for Atlas Elektronik UK, said the investment was an "exciting opportunity for the continued growth and sustainability of advanced engineering in Dorset".
"Winfrith is already a centre of excellence for innovation with good communication links and a very attractive work life balance", he said.