Bournemouth balloon axed after damage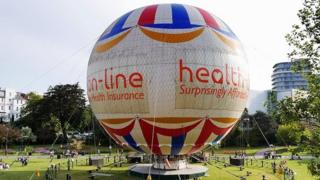 Bournemouth's landmark balloon will not return to the seaside resort after it was damaged last year.
The tethered balloon, which flew 150m (492ft) above the town's Lower Gardens, was removed for repairs in June.
Bournemouth Borough Council, Lower Central Gardens Trust and S&D Leisure said they would not renew the contract for the attraction this year.
The council said S&D could no longer run it due to increasing operating costs.
It comes after a report, presented to Lower Gardens Trust Board in January, said S&D Leisure could no longer commit to continuing with its operation.
Work will start soon to "return the gardens to grass for the summer season", the council said.
Michael Rowland, head of parks development, said: "We are sorry to see the balloon leave the Lower Gardens after more than 15 years of service."
He said no decision about the future of the site would be made without "careful consideration, time and consultation with both the community and heritage organisations".
Bournemouth Balloon
The balloon was 22m (72ft) wide, 33m (108ft) high, with a circumference of 69m (226ft)
It flew at 150m (492ft) and was usually moored at 33m (108ft)
It carried up to 28 passengers
The envelope - the large spherical balloon - took 5,575 cubic metres of inert helium gas
The eight-sided steel gondola gave passengers a 360-degree view of Bournemouth
The balloon was inspected and certified as an aircraft by the Civil Aviation Authority in 2008